The Little Lamp Project
23 March 2023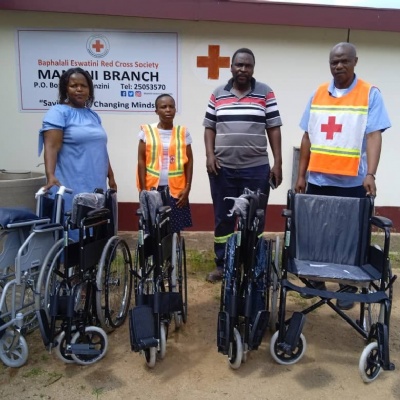 UWC Eswatini National Committee student Nongcebo Pertunia Nsingwane embarked on a journey to give back to her community in Eswatini and "spread the little bit of light she has."
Nongcebo Pertunia Nsingwane from Ekutsimuleni, Luve in Manzini region, is an 18-year-old who attended Antioch Pre and Primary school and Emcozini High School where she completed her Form 5 in 2021. Nongcebo tells us,
"In 2020, while I was at home because of the Covid 19 situation, I started researching about opportunities that would aid me further my studies outside the country my desired course is not offered in Eswatini. I followed The Knowledge Institute (TKI) and they had a couple of scholarships listed on their website like African Leadership Academy (ALA) and Waterford Kamhlaba UWCSA or Eswatini NC scholarship. ALA rejected me and my only option was the NC. Fast-forward to 2022 around March when I was writing my final EGCSE exams, I was simultaneously applying to the NC and by God's grace I got in."
The young 18 year old was placed at Red Cross Nordic (RCN) , the UWC college in Norway. She states,
"RCN has been a wonderful place for me. The Norwegian scenery, nature and the people here are wonderful. I have made strong friendships. Also, it has been a way for me to learn about other cultures and get to be involved in many exciting activities like hiking, skiing, and planning Afro-Caribbean Week. I have also had a chance to do my TEDx Talk about How people can collaboratively bring economic advancement to the African continent. To be honest I did not choose RCN, it chose me I guess. My NC chairlady said she chose RCN for me because of my outspoken personality, she thought it would be a good fit for me. RCN, like all UWCs I believe, is a place of growth. I love it here because I get challenged every day to be better. One thing that stands out the most for me about RCN is the 'birthday culture'. Birthdays here are a huge thing, and they are celebrated at night by either jumping into the fjord or just having a party thrown for in the dayrooms."
The Little Lamp Project came after Nongcebo realised there was a need for wheelchairs in Eswatini, and that there were very few people and places that would maintain and fix broken wheelchairs. Nsingwane continues,
"I chose to do the wheelchair project because it came to my mind whilst I was searching for ideas of a project that actually wheelchairs are a big necessity in the world. Statistics show that 131.8 million people in the world require wheelchairs. I started thinking about Eswatini and asked around to see if the wheelchair issue was a real issue, or I was just fooling myself. Everyone I asked unanimously agreed that wheelchairs are a real necessity and there are actually a few people who can fix them. We have 5 at most in the whole country. So I thought, why not? It was going to be a chance for me to give back to my country. Having been awarded the scholarship to come to Norway, I am really humbled. The NC could have chosen someone else, but they chose me. That counts for something, I should give back to my people; with the little I have to shine the light to everyone else back home. Hence, the name 'Little Lamp'. "
According to the Little Lamp Project design outline, the project is a three part endeavour.
Part 1
Donating five (5) wheelchairs to the Baphalali Eswatini Red Cross Society Manzini branch. Partnering with the Manzini Red Cross Society branch ensured that an existing organisation with ties to different communities in the country, would be involved in the distribution of those wheelchairs to those who needed them the most, across all four regions of Eswatini.
Part 2
Teaching four (4) people how to fix and maintain wheelchairs. This part of the project hopes that the four individuals who are taught will teach more people the skills required and that it'll start a chain reaction where there are people across the country with the skills to fix wheelchairs. This part started yesterday, the 22nd of March 2023, in the capital city of Mbabane.
Part 3
The project hopes to source enough funding to kick-start the third and last aspect of the project, which is to fix wheelchairs for people in the country who own broken wheelchairs.
For this project to be successful, Nongcebo was part of The Changemaker Project and took lessons from it and applied it to the Little Lamp Project. The Changemaker Project is an Initiative that was founded by Annalise Hoopes in 2017. They equip teenagers who want to make an impact in their chosen areas, be it education, environment or the humanitarian world. They offer lessons on how to plan a project from start to the very end and leadership skills to name a few. They work with donors and mentors who help you take your project to the next level.
"I got to know about Changemakers from one of my teachers, Madhulika Singh who also played a huge role in guiding me throughout the process. I would highly recommend The Changemaker Project to others.They help a lot, without Changemakers, I wouldn't have done my project," Nongcebo gushes with appreciation. "The Good news is," she continues, "Changemakers is not only open to UWC students but every teenager can join and make an impact in the world. For now, the Little Lamp project will have to finish all the stages of the project even though it's hard because funds tend to be insufficient, so I can't really do as much as I wanted, but I am positive that it will be a success nonetheless. I wish to transform Little Lamp to not just being a project but a foundation, but we will have to start with making it an annual project and see where that takes us.""