Swazi Stall at the UWC Day 2018
12 April 2018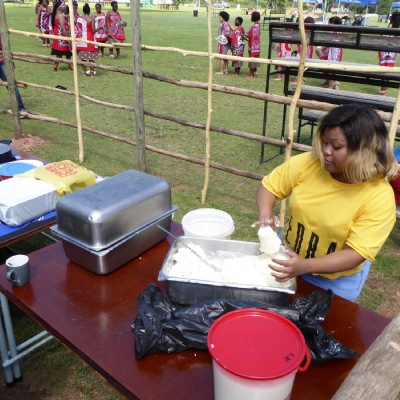 UWC day is a celebration where the beautifully diverse school celebrates each of the over 50 different nationalities present in their student body. This celebration is expressed through national dress, dance and food among other unique things from the countries. According to numerous sources,the best part about this day are the country stalls where national food and drinks are sold.
Among the over 50 countries represented, the Swazi stall was undoubtedly one the most popular and best stalls on the day. The uniquely decorated structured stall which was in a built kraal had students,teachers and guests marvelled by its uniqueness. The was a variety of some of the best Swazi, national food being sold. Braaid meat, mealie bread, road runner chicken, boiled and grilled maize,emasi and emahewu were one of the favourites sold at the Swazi stall. To spice things up on the extremely hot day the Swazis all decided to sell "ice blocks" which sold out in less than 30 minutes.
"I am utterly surprised by the level this food is at, it is delicious. Swaziland has been well represented," remarked one man at the Swazi Stall. The heads of the Swazi stall said that the success of the stall is due to the joint effort made by the Swazi students,teachers and parents at the school who contributed their time,food and funds preparing for the day.
Despite the extremely hot weather, UWC day 2018 was a success and everyone was impressed by the outcome. .
Written By: Joy Nongcebo Mahlalela (Swaziland, IB1)